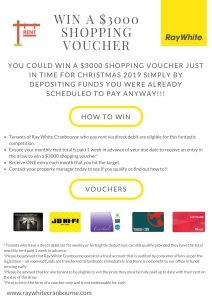 Competition available to tenants set up in Payment Gateway System on DIRECT DEBIT only.
Competition:
Annual comp – Tenant's paying their full months' rent 1 week in advance of the due date (via Direct debit) will receive an entry in the draw to win a shopping voucher to the value of $3000*. Tenants who have a direct debit set for weekly or fortnightly deductions can still qualify provided they have the total monthly rent paid 1 week in advance.
The competition will run from Feb 2019 to Nov 2019 – one entry permitted per month – Tenant can achieve maximum 10 tickets (entries) in the draw. Drawn in December 2019 – date to be advised.
The competition is optional to tenants, we cannot force anyone to pay a week early, however we are hopeful that by offering the $3000 prize this may incentivise many of them to do so as it is funds they were going to have to pay anyway, we are just encouraging them to pay it a little earlier. We are also hopeful that the Direct debit requirement will encourage those tenants that pay by other methods to change to Direct debit – as this is the most effective way to ensure landlords receive funds on time every time.
Paying rent a week early will not only give tenant's an opportunity to win this great prize, but it will also ensure they have a perfect tenancy ledger which is of great benefit when applying for new rentals or even home loans and credit applications. Tenants who already have a direct debit set up can email or text their property manager to arrange the change in the direct debit date to match the competition requirements and then can literally set and forget. Provided the funds are there to be deducted on the due date they are guaranteed 10 entries into the competition!
Tenant's paying by another method? Can contact their property manager and arrange to switch to direct debit – its set and forget and then guaranteed to get an entry in every month to win this great prize (provided payments clear).
For further information regarding this program please contact your Property Manager directly.
*Please be advised that Ray White Cranbourne operates a trust account that is audited by consumer affairs as per the legislation – all received funds are transferred to landlords immediately and there is no benefit to our office in funds arriving early.
*Please be advised that for any tenant to be eligible to win the prize they must be fully paid up to date with their rent on the day of the draw.
*Prize to be in the form of a voucher only and is not redeemable for cash. Vouchers on offer are:
– Coles Myer Group
– Woolworths Group
– Bunnings
– JB Hifi
– Westfield